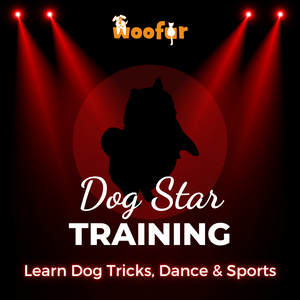 Calling All Dog Stars!  
Does your pup have a talent that's ready to shine on the big stage?  If your furry friend is eager to showcase their skills and take their abilities to the next level, then this exciting opportunity is tailor-made for you! Introducing our exclusive "Dog Star" training course— a 4-week program designed to unleash your dog's star potential and create a captivating performance routine that will leave audiences in awe!
Throughout the month of August, every Saturday from 12 PM to 2 PM, join us at Woofur Vaughan as we embark on a journey of training, creativity, and bonding between you and your four-legged partner.  This course is all about cultivating a magical connection as you explore tricks, dance routines, and sports activities that will amaze and entertain. But here's the best part—once you and your talented pup complete the course, you'll have the incredible opportunity to showcase your act on a public stage in the heart of the Town of Richmond Hill!  
Imagine the thrill of performing in front of a live audience, basking in the spotlight, and sharing your unique bond with your dog with the world.
Course Details:
Training: Every Saturday in August, 12 PM - 2 PM
Location: Woofur Vaughan,
Performance: Scheduled for September 2nd or 3rd
Don't miss your chance to let your dog's star shine bright!  Sign up now and reserve your spot in our exclusive "Dog Star" training course. Together, we'll nurture your dog's talents, refine their skills, and create a performance that will leave lasting memories for everyone involved.
Limited spots are available, so sign up asap to secure your place among the rising stars of the doggy world!  Get ready to witness the extraordinary bond between you and your dog come alive on stage. Join us in discovering the true potential of your four-legged star!