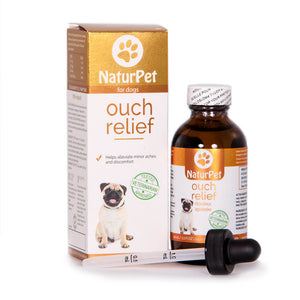 • Helps control your pet's pain from chronic illness, traumatic injury, and rheumatic conditions
• Reduces inflammation causing pain.
• Restores sleep patterns disturbed by pain.
• Soothes, comforts, and calms your pet.
• Reduces fever.
• Suitable for dogs only

Product Description
Manage your dog's pain with NaturPet's OUCH RELIEF oral remedy. Formulated with White Willow, one of nature's best pain relievers, OUCH RELIEF also contains herbs that help your pet cope with the stress that is associated with pain. Keep in mind that dogs have a tendency to suffer in silence. Pain management is an important part of healing recovery. Agitation can disturb sleep patterns and cause restlessness which means that your pet doesn't settle well to allow healing to take place. Provide a safe, comfortable, quiet place for your pet to rest.
Ingredients & Benefits
White Willow bark (Salix alba)
White willow is one of nature's best pain relievers containing glucoside-salicin, which causes effective pain relief for dogs. It also reduces inflammation while relieving your dog's aches and pains. (Salicin is related to aspirin from which acetylsalicylic acid was derived)
Hollowroot (Corydalis cava)
Corydalis cava or Hollowroot has analgesic and antispasmodic properties which may help to relieve pain for soft tissue injuries, abdominal pains and spasm.
Valerian root (Valeriana officinalis)
Also known as the calming herb, Valerian will help to soothe and relax dogs who are stressed and anxious because of pain. It will help animals rest so that their bodies can heal.
Wild Lettuce aerial parts (Lactuca serriola)
This herb will help to induce sleep, treat frayed nerves and calm restlessness, irritability and anxiety in dogs in need of pain relief.
Hops strobile (Humulus lupulus)
This herb has a sedative effect which serves to calm and soothe nerves. It also helps bring relief to muscle spasms and reduce fevers in dogs.
Mistletoe branches (Viscum album)
Mistletoe works to quiet, soothe and tone your dog's nerves. It calms cerebral excitement in dogs in pain.
Lobelia aerial parts (Lobelia inflata)
One of the strongest relaxants in the herbal kingdom, Lobelia will help calm a dog experiencing; it also helps to reduce fevers.
Skullcap aerial parts (Scutellaria lateriflora)
This herb relieves spasms while helping calm and soothe nerves, all to help your pet relax.