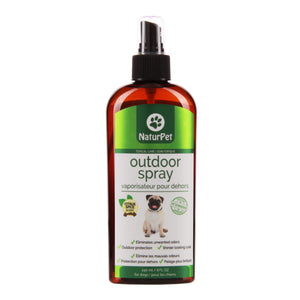 • Eliminates odor
• Anti-itch & anti -bacterial properties
• Perfect for outdoor walks and hikes
• Shinier looking coat
• Suitable for dogs only
Product Description
NaturPet's OUTDOOR SPRAY is a blend of natural herbs that eliminates odors and aids. It also works great for after washing to deodorize and provide a shinier looking coat. Remove that wet dog smell with ease with this outdoor spray.
Accidents can happen when you're on a hike! Add NaturPet's HEALING SPRAY to your pet first aid kit or basic hiking essentials.
Ingredients
Neem is hated by most common bugs which helps in its repelling ability toward them. It also promotes a shiny coat and healthy, hydrated skin.
Sodium Bicarbonate gently absorbs excess moisture from the coat and can help prevent hot spots and yeast buildup. This action also helps to deodorize and reduce dandruff levels.
Eucalyptus volatile oils freshens the coat and kill bacteria and yeast that can cause unpleasant odors.
Clove bud has traditionally been used to deter common insects. Clove is also a pleasant scent to help eliminate odors.
Lemongrass is another herb that has been studied for how most common bugs are turned off by it. Antimicrobial properties kill bacteria and yeast on the skin's surface that cause odors and irritation.
Cedarwood's antibacterial and anti-fungal properties control organisms that cause bad odors. It also relieves itchy, dry skin, and is a natural deodorizer.
Inactive Ingredients: Polysorbate, Potassium Sorbate, Optiphen Plus, Purified Water, 3% Glycerin.