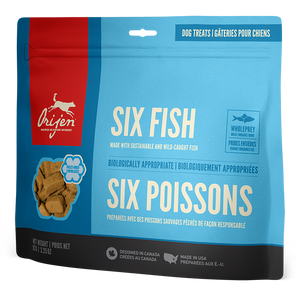 BIOLOGICALLY APPROPRIATE DOG TREATS
MADE WITH SUSTAINABLE AND WILD-CAUGHT FISH
THIS MIXTURE OF SIX DELICIOUS, WHOLESOME FISH IS A POWERHOUSE OF NOURISHMENT. WILD-CAUGHT AND WHISKED TO OUR KITCHEN, OUR FISH ARE GENTLY FREEZE-DRIED TO LOCK IN THEIR FLAVOUR AND NUTRIENTS, CREATING A TASTY AND HEALTHY TREAT THAT YOUR DOG WILL LOVE.
INGREDIENTS WE LOVE FROM PEOPLE WE TRUST
Raw whole herring (25%), raw flounder (21%), raw whole rock sole (18%), raw whole rockfish (17%), raw whole mackerel (15%), raw hake (3.9%). ADDITIVES (per kg): Technological additives: tocopherol rich extract of natural origin.