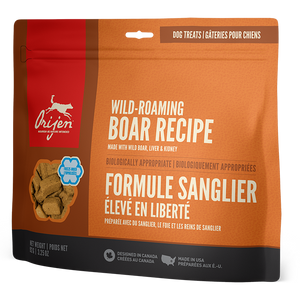 BIOLOGICALLY APPROPRIATE SINGLE-SOURCE TREATS
MADE WITH WILD BOAR, LIVER & KIDNEY
SUSTAINABLY SOURCED FROM MOTHER NATURE, OUR WILD-ROAMING BOAR ARRIVES AT OUR KITCHEN RAW, WHERE IT IS GENTLY FREEZE-DRIED TO CREATE A WHOLESOME, DELICIOUS TREAT THAT YOUR DOG WILL LOVE.
INGREDIENTS WE LOVE FROM PEOPLE WE TRUST
Raw wild boar (50%), raw wild boar liver (40%), raw wild boar kidney (9.9%). ADDITIVES (per kg): Technological additives: tocopherol rich extract of natural origin.