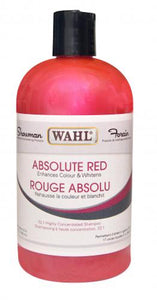 A 32-1 high concentrate, whitening and colour enhancing shampoo.
It is the absolute best shampoo available for removing stains and highlighting red hair.
Redeners have been used for centuries in the far East and whitening techniques have proven to outperform bluing.
Absolute Red utilizes this technology to provide a deep cleaning and conditioning shampoo that removes odours and rinses fast!
Try it for red or copper coloured coats to enhance and enrich these natural colours. Absolute Red is pH balanced, biodegradable, natural, mild on skin and leaves an extra clean scent.
This formula is pH-balanced, mild, freshly scented and safe on our environment.