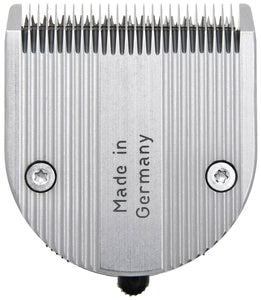 Giving awesome haircuts all around the world, The WAHL Li+ Pro Clipper Blade works with the Li+ Pro Corded/Cordless Clipper and it features a hard chrome finish with a 46mm cutting width. The 5-in-1 adjustable blade has 5 cutting positions ranging from 0.7mm to 3mm (#9, #10, #15, #30, & #40).
Key Features
Chrome-plated professional quick-release blade
Adjustable 5 position blade for cutting lengths from 0.7mm to 3mm
Cutting width of 46mm
Fits: Li+ Pro, Bellissima (Red, Silver, Lavender & Green), Black Chromado, Bravura, Arco (Purple with Paws) & Arco SE (Champagne & Pink).