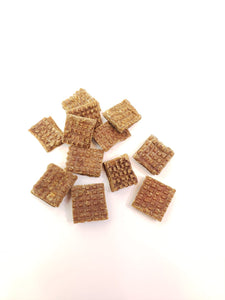 A delicious treat that's protein-packed for your pup, which helps to provide energy so that they have the energy to grow, learn, and play with you! Duck is a great lean option for dogs who may have sensitivities or allergies to other proteins such as chicken or beef. The good thing about these Ducky Crunch treats is that they're already in scrumptious bite-sized squares, which makes it super easy for you to reward your pup with our yummy l'il bites!
Benefits:
Single-ingredient
All-natural
Slow-dried for best flavour
High in protein & lower in fat than chicken
Builds lean muscle mass, which needs replacing when your dog is active or as they age.
Contains Ribolavin, which is responsible for metabolizing fats & carbs into energy, and producing red blood cells
Natural source of Phosphorus, which helps support healthy kidneys by helping to flush toxins out of your dog's body.
Contains Magnesium, Potassium and other vital nutrients
Feeding Guide: Feed as an occasional treat at any time between your dog's meals as part of a balanced diet. Not suitable for puppies under 4 months of age. Dogs should always be supervised while feeding. Always fresh drinking water is available at all times.
Ingredients: Fresh Duck Breast
 Weight: 70g
Woofur Branded Treats