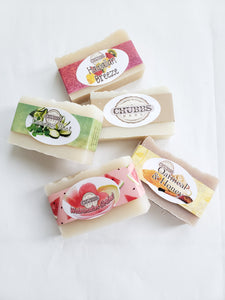 A great opportunity for pet lovers or pet professionals to benefit from buying in volume with minimal commitment. 
SPECIAL INSTRUCTIONS: Mix and match any 5 scents you would like by leaving a note in the Comments section of your Shopping Cart.
The Original Chubbs Bar purifying shampoo for cats, dogs, and other pets. Use alone as a de-greaser and finishing shampoo (we recommend two lathers on most pets) or use as a purifier followed by another shampoo of your choice.

*In an effort to preserve the look and natural state of our shampoo bars, weight measurements are approximate and not exact. 
Note: Average usage per 113 g bar is 10-12 small-sized washes, 8-10 medium-sized washes, and 6-8 large-sized washes. Usage may vary by coat length and dirt.
For best results, be sure to thoroughly soak the coat of the pet down to the skin and remove all air pockets prior to soap application.