Chilly Dog uses organic wool and natural plant and fruit dyes. We do not use harsh chemicals during processing or plastic packaging.
Chilly Dog business practices, supports and facilitates healthy individuals, farms, communities and renewable resources.
We have been making dog sweaters for over 12 years and are the original GREEN hand knit.
Our sweaters are made in the Northern Highlands of South America by descendants of the Inca Indians. The Incas have handed down the art of knitting to many generations. Chilly Dog directly employs all of our knitters and practices within the guidelines of Fair Trade.
These are the warmest sweaters made today. Don't let your dog be left out in the cold!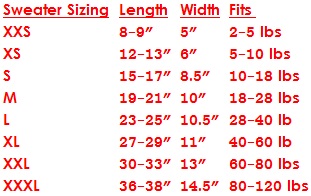 Washing Instructions 
Sweaters are 100% Wool and can be machine washed, gentle cycle in cold water.
Do not put sweaters in the dryer, lay flat to dry.
May also be hand washed or dry cleaned.