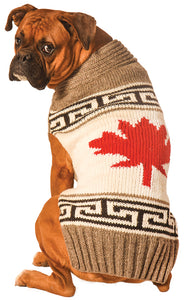 The Grey Maple Leaf Dog Sweater is crafted from 100% sheep wool.
It is knit by Artisan Knitters in the Northern Highlands of South America and is made following Fair Trade Guideline.
Chilly Dog Wool and Alpaca dog sweaters are the warmest because the natural fibers have greater bulk therefore, preventing any air pockets.
Wool is a renewable resource and is water repellent.
All Chilly Dog sweaters are available in 8 sizes to fit teacups to Great Danes!
Chilly Dog sweaters fit barrel-chested dogs, for example, Pitt Bulls, Boxers and Pugs beautifully because of the give in the knit.
The quality of Chilly Dog sweaters is superior to any other dog sweater, you will see it the moment you hold it in your hand.
Treat your dog to the best!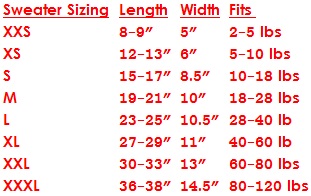 Washing Instructions 
Sweaters are 100% Wool and can be machine washed, gentle cycle in cold water.
Do not put sweaters in the dryer, lay flat to dry.
May also be hand washed or dry cleaned.