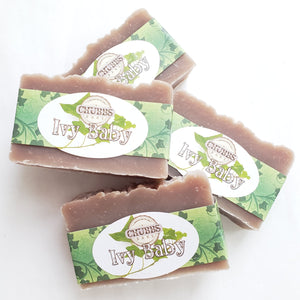 Ivy Baby Chubbs Bars signature fragrance was made especially for Trazarra I've Been Travelin', a Persian kitten sent to us from Australia and known affectionately as "Ivy." This bar is perfect for puppies and kittens. With a soft fragrance that makes one think of a sweet newborn baby, it is sure to bring on the snuggles.
For best results, apply directly to the coat of the wet pet, really working the shampoo throughout the hair of the pet down to the skin. Then thoroughly rinse out the coat. Apply a second lather as just described for a squeaky clean groom.
NOTE: Average usage is 10-12 cats or small dogs, 8-10 medium dogs, 6-8 large dogs, bathed per bar, lathering twice for each pet and using Chubbs Bars exclusively. Using this average, the shampoo costs are approximately $0.65 to $1.20 per pet with two lathers, using Chubbs Bars exclusively.

*In an effort to preserve the look and natural state of our shampoo bars, weight measurements are approximate and not exact.