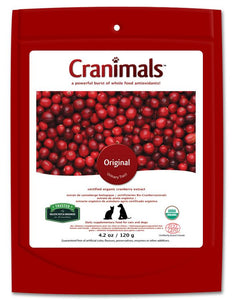 Natural Urinary Tract Food Supplement for Pets

CRANIMALS™ ORIGINAL is a proprietary extract made from 100% certified organic cranberries. An independent veterinary trial published in the American Journal of Veterinary Research ((vol. 77 (4), 2016)) found that Cranimals Original was beneficial for dogs suffering from urinary tract infections* when following dosage directions on the label. 
Scientifically tested in an independent peer-reviewed veterinary trial. A food supplement for cats and dogs formulated with a single proprietary extract made from organic cranberries.