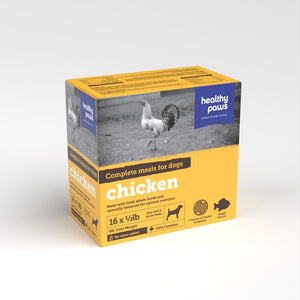 The chicken used in our recipes is hormone & antibiotic-free that is sourced from local Ontario farms.
Chicken is beneficial in maintaining both day-to-day and long-term health. Chicken is an excellent source of tryptophan and an excellent source of Niacin (B3), and protein. Chicken is also considered a good source of vitamin B6 and phosphorus. This mix of B-complex vitamins makes chicken a helpful food in supporting energy metabolism. Bone is an excellent source of calcium and fat-soluble vitamins.
Hormone & Antibiotic-Free
Free-Range
Our Canine Complete Chicken Dinner contains our Healthy Paws™ K9-5 Species-Specific Probiotic Blend, Atlantic Sea kelp and an omega-3 blend of herring and sardine.
Our proprietary species-specific probiotic blend is derived from both healthy domestic dogs and free-range wolves. This 5-strain probiotic blend contains and exhibits prebiotics, antioxidant, anti-inflammatory properties, and proprietary ingredients, which serve as fuel to sustain the multiplication and growth of healthy probiotic organisms within the body.
K9-5 Probiotic (min) 200 million CFU / 100 grams