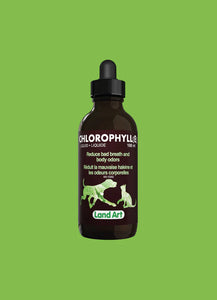 Land Art's Chlorophyll for pets is just as beneficial for your four legged friends as it is for you! A powerful antioxidant, chlorophyll is mainly used as a liver detoxifier as it also helps to decrease bad breath and body odour.
Chlorophyll is generally known for:

Detoxification
Alleviating bad breath
Decreasing unpleasant bodily odour
Being an antioxidant
Dosage and how to use:
Add a few drops to your pet's food each day or directly into their water bowl, mixed with food or directly into their mouths with a dropper.