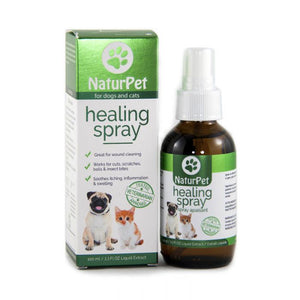 Made in Canada
Vet approved treatment
Cleans and protects cuts, scratches & insect bites
Prevents infections
Helps reduce swelling
Easy-to-use spray
Suitable for cats and dogs
Naturpet Healing Spray is an 100% natural and safe herbal extract antiseptic spray that helps clean wounds and reduce swelling. It is suitable for both cats and dogs and can be used to treat bug bites, scrapes, and cuts.
Active Ingredient: Ration 1:3 - Goldenseal root, echinacea angustifolia root, echinacea purpurea flower (fresh) and root.
Inactive Ingredients: Purified water, 45% alcohol