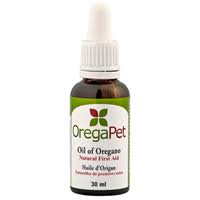 Ingredients: Mediterranean Oregano Oil, Extra Virgin Olive Oil
Use: Bacterial, viral, fungal, and parasitic infections
Dogs: 1 drop per 2 lbs of body weight up to 50 lbs then 1 drop per 5 lbs. Divide into 2 daily doses. Mix with food or water.
Prevention: 3-5 drops daily; small breeds: 3-5 drops weekly
Warnings: Always consult a veterinarian. Not recommended for cats. May not be suitable for birds, rabbits, reptiles, amphibians, rodents, and other exotic pets. Intended for dogs, horses, other large animals, and livestock. Not recommended for pregnant or nursing pets. Naturally spicy, ensure access to fresh water. Do not use if you suspect an allergy to Lamiaceae (mint) herbs. Discontinue use if there is no sgn of improvement.