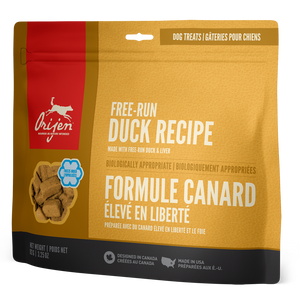 BIOLOGICALLY APPROPRIATE SINGLE-SOURCE TREATS
MADE WITH FREE-RUN DUCK & LIVER
OUR FREE-RUN DUCK ARRIVES AT OUR KITCHEN RAW, PACKED WITH NUTRIENTS AND FLAVOUR THAT WE SEAL IN USING GENTLE FREEZE-DRYING TECHNIQUES. THE RESULT IS A WHOLESOME AND DELICIOUS TREAT THAT YOUR DOG WILL LOVE.
INGREDIENTS WE LOVE FROM PEOPLE WE TRUST
Raw duck (50%), raw duck liver (49.9%). ADDITIVES (per kg): Technological additives: tocopherol rich extract of natural origin.