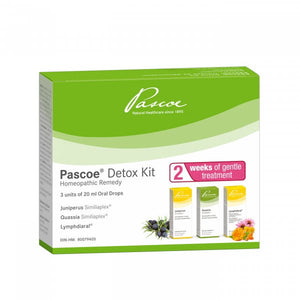 Pascoe's new mini Detox Kit is a homeopathic kit to help the system open up the pathways to detoxify toxins .The Kit includes Lymphdiaral, Quassia Similiaplex, Juniperus Similiaplex, all in 20 mL bottles, all which are mainly made from plant-based naturally sourced homeopathic ingredients that aid in the detoxification process.

Quick Wins With a 2-Week Detox Kit
The new mini Detox Kit is perfect for anyone looking to improve their overall health and feel better fast! Do you have a special occasion coming up soon that you want to look and feel your best at - maybe a wedding, or a trip down south? The new 2-week Detox Kit works fast to improve your overall health and bring you back to a more balanced state in a short amount of time.
Easy to Use

Put 3-5 drops of each remedy in a little water per dose and repeat 3x per day.
For Best Results
For the best detoxification effects, you should reduce your intake of heavily processed foods (including kibble), chemicals (including vaxx and other prescription drugs), and other harmful substances.