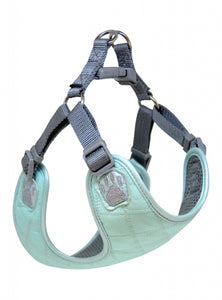 Berlin Skye
The

 

Berlin Skye

 harness' charming, pastel teal-verdant hue is inspired by Tiffany & Co., founded in 1837 by the jeweller, Charles Lewis Tiffany and their famous, trademark signature Tiffany Blue color.

 

 

This exquisite turquoise shade is a blue-to-green mineral of rare and valued prized gem that has been esteemed for thousands of years as a holy stone and a blessing of good fortune.

 

 

The texture of the soft, nylon quilt beautifully stitched with layers of cushioned fabric creates an air of light, pillowy clouds in the sky caressed by the incandescent, metallic mint ribbing.

 

 

The French Bulldog, imported from Paris, France, in the 1800s received the name the "Bouledogue Francais" as they were highly fashionable and were sought after by socialites because of their gentle-natured, affectionate temperament.
| Size | Weight (lbs) | Neck Girth (cm) | Chest Girth (cm) |
| --- | --- | --- | --- |
| Size 0 | 1 – 3 | 24 – 29 | 28 – 34 |
| Size 1 | 3 – 6 | 28 – 32 | 32 – 37 |
| Size 2 | 6 – 10 | 31 – 37 | 39 – 45 |
| Size 3 | 10 – 16 | 38 – 45 | 46 – 52 |
| Size 4 | 16 – 24 | 43 – 52 | 53 – 61 |
| Size 5 | 24 – 35 | 48 – 58 | 61 – 71 |
| Size 6 | 35 – 50 | 51 – 62 | 68 – 79 |