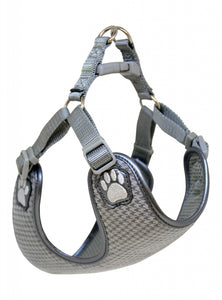 Oxford Houndstooth
The 
Oxford Houndstooth
 harness is named after the historical city of Oxford that was founded by Alfred the Great in the 9th century and its magnificent castle that was built there in 1072 by the Normans.
This majestic, stone wall fortress captured the magnificent architecture in the city's medieval centre as the beacon of hope, strength and courage.
The shadows of the bullet-slate, metallic, running hem shoots over the grey-stone undertones on this classic houndstooth pattern, which ironically brightens up the composition with its luminous, silvery embroidery.
The dashing Italian Greyhound breed was known for their velocity to speed as racing dogs and have long been popular with nobility and royalty.
| Size | Weight (lbs) | Neck Girth (cm) | Chest Girth (cm) |
| --- | --- | --- | --- |
| Size 0 | 1 – 3 | 24 – 29 | 28 – 34 |
| Size 1 | 3 – 6 | 28 – 32 | 32 – 37 |
| Size 2 | 6 – 10 | 31 – 37 | 39 – 45 |
| Size 3 | 10 – 16 | 38 – 45 | 46 – 52 |
| Size 4 | 16 – 24 | 43 – 52 | 53 – 61 |
| Size 5 | 24 – 35 | 48 – 58 | 61 – 71 |
| Size 6 | 35 – 50 | 51 – 62 | 68 – 79 |