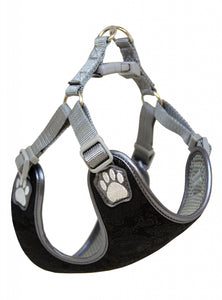 Persia Ebony
The 
Persia Ebony
 harness is named after the ebony hardwood with it's finely textured and mirror-polished finish creating a valuable appeal to this beautiful, ornamental piece.
Its floral cypress tree design is a Zoroastrian symbol of life and eternity that was a major textile pattern used in making royal court garments during the Persia Dynasty in the 1600s.
The regal, shadowy pattern captures a sophisticated elegance within the lustrous, silvery ribbing as a noble, masculine design created for an emperor.
The Basenji dogs were prized for their intelligence, courage, speed and were recognized for their obedience in pleasing their masters.
| Size | Weight (lbs) | Neck Girth (cm) | Chest Girth (cm) |
| --- | --- | --- | --- |
| Size 0 | 1 – 3 | 24 – 29 | 28 – 34 |
| Size 1 | 3 – 6 | 28 – 32 | 32 – 37 |
| Size 2 | 6 – 10 | 31 – 37 | 39 – 45 |
| Size 3 | 10 – 16 | 38 – 45 | 46 – 52 |
| Size 4 | 16 – 24 | 43 – 52 | 53 – 61 |
| Size 5 | 24 – 35 | 48 – 58 | 61 – 71 |
| Size 6 | 35 – 50 | 51 – 62 | 68 – 79 |