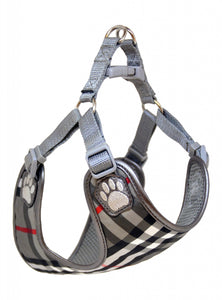 Windsor Monarch

The 
Windsor Monarch
 harness is named after the Windsor Castle that was originally built in the 11th century and situates in the English county of Berkshire, England.
Its Georgian appeal embodies almost 1,000 years of architectural history capturing the castle's grey stone structure found in the symmetry of the checkered plaid fabric.
The metallic dark grey ribbing structured around this regal design symbolizes royalty, power and strength.
Generations of royal families that have lived in this castle were protected by schnauzers, which were know to be bred as guard dogs for their intelligence and royal beauty for their thick, grey coat of fur.
| Size | Weight (lbs) | Neck Girth (cm) | Chest Girth (cm) |
| --- | --- | --- | --- |
| Size 0 | 1 – 3 | 24 – 29 | 28 – 34 |
| Size 1 | 3 – 6 | 28 – 32 | 32 – 37 |
| Size 2 | 6 – 10 | 31 – 37 | 39 – 45 |
| Size 3 | 10 – 16 | 38 – 45 | 46 – 52 |
| Size 4 | 16 – 24 | 43 – 52 | 53 – 61 |
| Size 5 | 24 – 35 | 48 – 58 | 61 – 71 |
| Size 6 | 35 – 50 | 51 – 62 | 68 – 79 |