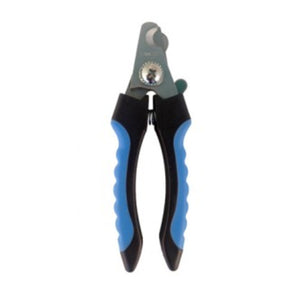 Long nails on a pet are not only uncomfortable but potentially dangerous, so keep them neat and trim with this Plier Style Nail Trimmer with Stopper. Spring-loaded for maximum efficiency, you can be sure you won't be spending a long time trimming away. Steel is sharpened for optimum cutting and is heat-treated for strength.
Instructions:
Raise lever up and turn in a circular motion 180 degrees, then lower the lever again towards the base of the clippers.
Hold the two handles in the palm of your hand and wrap your fingers around them so that you have a comfy grip that will allow you to squeeze without slipping.
Place the head of the clipper around the nail you need to cut. Do not place too close to the quick.
Apply pressure on handles, ensuring clipper remains in place.