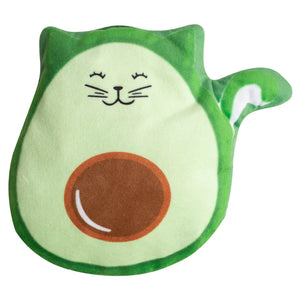 Meet Avocato, she is half Avocado and half cat but she is 100% fun! Toy contains crinkle & squaker.
WHY WE LOVE IT
Toys made from recycled water bottles
On Trend
Interactive
Non-toxic & Durable
ABOUT SNUGAROOZ
Introduced at Global Pet Expo 2018, SnugArooz is an innovative collection of interactive toys for fun-loving dogs. Every single item is designed to epitomize the official mission of the brand: "Snuggle. Cuddle. Play.™" SnugArooz Plush Toys are crafted to squeak and crinkle their way into every furry heart, while SnugArooz Knotted Toys are engineered to endure exuberant tugging and chewing. All products are created from safe, non-toxic materials with durable construction throughout.