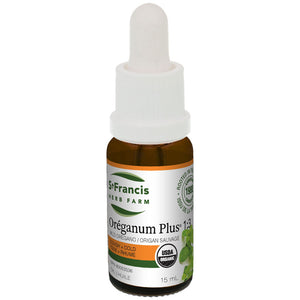 Push back against colds and flu with our essential oil of oregano in a 1:3 dilution.
Featuring the essential oil of oregano at a less concentrated level of dilution than Oreganum Plus 1:1
One part essential oil to three parts of olive oil
With a minimum of 72% carvacrol
Addresses common colds and flu
With antibacterial and antiviral properties
Take our Oreganum Plus 1:3 if you're suffering from symptoms of the common cold, flu, lung disorders, sinus congestion, or bronchitis.
St. Francis Herb Farm's Oreganum 1:3 is certified organic.
NPN 80053536
Available sizes: 15ml, 30ml