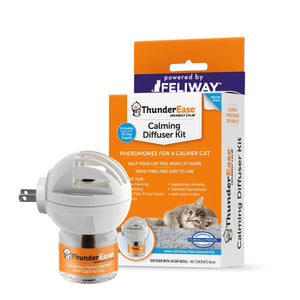 #1 Vet Recommended Solution for Cats

If you've asked yourself, "How do I get my cat to stop scratching?" or "How to get my cat to stop spraying and peeing in the house?", you've come to the right place! It's time to put an end to unwanted cat scratching and urine spraying for good! 
There are lot of different stressful situations that can cause your cat to start exhibiting these unwanted behaviors.  ThunderEase for Cats helps your cat feel calm and comfortable by mimicking the natural facial pheromones that felines use to mark their space. 
Powered by Feliway, the #1 vet recommended solution, ThunderEase for Cats is tested to be over 90% effective for reducing anxiety symptoms, and unwanted behaviors, like scratching and spraying, in cats.  Your cat will feel safer and less stressed, and you'll spend less time and money scrubbing out stains and replacing furniture!  It is a win-win situation, and some would say an Ease(y) decision to make!
ThunderEase is drug-free, and 100% safe for your pets and your family.