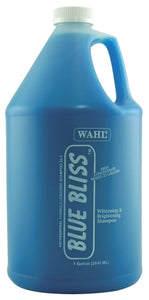 A 24-1 high concentrate thick blue shampoo. An excellent deep cleansing shampoo that removes stains, oxidation and odors. Blue Bliss rinses clean and leaves a fresh clean scent. Blue Bliss is natural, pH balanced and biodegradable.
Formulated with natural oils, aloe and blueberry extract

24-1 concentrate
Whitening and brigtening formula to remove oxidation and stains
pH balanced
Biodegradable
Formulated for dogs, cats, puppies, kittens, ferrets, horses and farm animals.