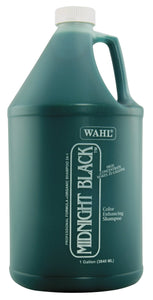 Midnight Black is a 24 to 1 highly concentrated, thick, black shampoo specially formulated to evenly darken dark haired animals. While reducing yellow and gray oxidation, it cleanses and conditions. It rinses out easily and is excellent for removing unpleasant odours, dirt and food stains. pH-balanced, mild, freshly-scented and safe on our environment.
Formulated with nourishing oils like Coconut, Jojoba and Avocado oils
24-1 high concentrate
Colour enhancing shampoo
Rinses out easily without leaving any residue
Tearless, pH balanced, natural, and biodegradable.
Mild on skin.