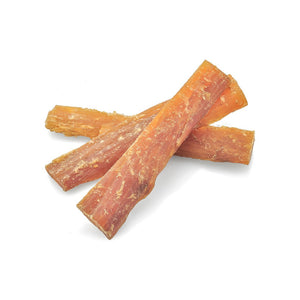 Spoil your pup with one of our tough, yet tasty Beef Backstrap Tendons! High in protein, collagen, and glucosamine, but low in fat, this chew is a great option for maintaining your dog's oral health by naturally cleaning their teeth and gums to help prevent plaque & tartar buildup. We have 3 different sizes for your dog's individual chewing needs.
Benefits:
All natural

Fully digestible
Free from hormones, antibiotics, additives or preservatives
Tough texture promotes healthy teeth & stronger gums.
A chew that naturally reduces plaque and tartar build-up, which can help improve bad dog breath!
A much safer and healthier alternative to rawhide.
Rich in Collagen, Glucosamine, Chondroitin and Elastin, all of which improve joint health, reduce bone loss and inflammation, and promote shiny coats and healthy skin.
Ingredients: Beef Tendon
Woofur Branded Treats