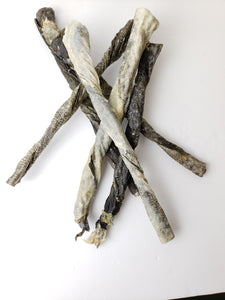 Woofur's Cod Fish skin treats are healthy, containing very high amounts of natural antioxidants and vitamins that dogs need, like the Omega 3's and 6's and the DHA's.
Our Cod Fish skin treats are air dried which gives them a chewy and crunchy texture, easily substituting for baked treats which may be crunchy, but not nearly so healthy.
Our Fish skin treats are single ingredient products, so you don't need to worry about fillers. We have 2 size options: 6" or 12" long and thick, very low in fat, making them an excellent chew for your dog!
Handmade in Canada, right here at Woofur!
Ingredients: Cod Fish Skin
Sizes: Mini 6" or Full 12"
Woofur Branded Treats