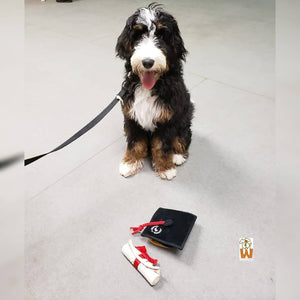 MANNERS & OBEDIENCE I - Six (6) Live Classes -
NOTE: THIS IS AN IN-PERSON COURSE
COURSE PREREQUISITE: Please note that the successful completion of Woofur's Canine Foundations is required prior to enrollment in the Manners & Obedience - Level 1 program
Course Description: Learn to establish a great relationship with your dog to gain consistent response and behaviour. Learn to establish a solid obedience framework with your dog inside and outside of the home, teach your dog to respond to the first command, understand your cues (including hand signals), gain control on your walks, how to walk properly on and off-leash, how to deal with distractions, be reliable on in-sight and out-of-sight recalls, how to be patient and focused, start building distance reliability, and much more.
Our trainer will conduct this course through lectures, demonstrations, and exercises.
Note: Enrollment information will be emailed to you after checkout is complete.